Made me laugh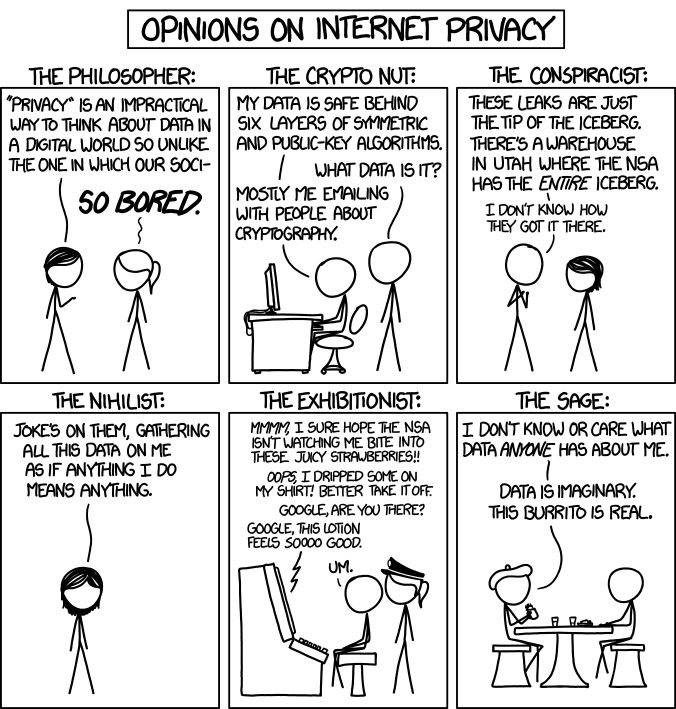 Transcript
The Philosopher:
Megan: "Privacy" is an impractical way to think about data in a digital world so unlike the one in which our soci–
Ponytail: So bored.
The Crypto Nut:
Cueball: My data is safe behind six layers of symmetric and public-key algorithms.
Friend: What data is it?
Cueball: Mostly me emailing with people about cryptography.
The Conspiracist:
Cueball talks to Megan.
Cueball: These leaks are just the tip of the iceberg. There's a warehouse in Utah where the NSA has the entire iceberg. I don't know how they got it there.
The Nihilist:
Megan: Joke's on them, gathering all this data on me as if anything I do means anything.
The Exhibitionist:
Cueball is watching a surveillance console, Officer Ponytail stands behind him.
Console: Mmmm, I sure hope the NSA isn't watching me bite into these juicy strawberries!! Oops, I dripped some on my shirt! Better take it off. Google, are you there? Google, this lotion feels soooo good.
Cueball: Um.
The Sage:
Beret Guy and Cueball sitting at a table.
Beret Guy: I don't know or care what data anyone has about me. Data is imaginary. This burrito is real.